Assisted Living Funding Options
The Senior Care You Need. The Prices You Deserve.
At Affectionate Care, we know that financial considerations are the number one road-block for seniors seeking a quality assisted living community. That's why we use a comprehensive pricing model that matches each resident with the care options that best suit their needs — so you can pay for the services and amenities that improve your quality of life, and nothing more. Figuring out how to pay for your new home can feel daunting, but there are many viable options that can help you get the care that you need. Read below for some tips on paying for your assisted living home, and contact us today to learn more!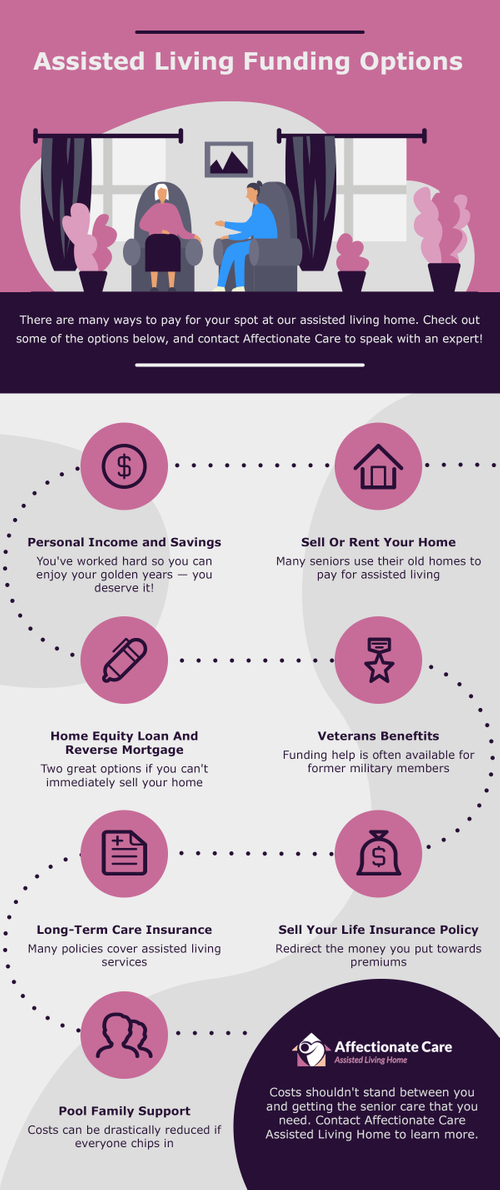 Funding Options for Assisted Living
Personal Income and Savings
Selling or Renting Your Home
Veterans Benefits
Home Equity Loan or Reverse Mortgage
Long-Term Care Insurance
Pooling Family Support
Selling Your Life Insurance Policy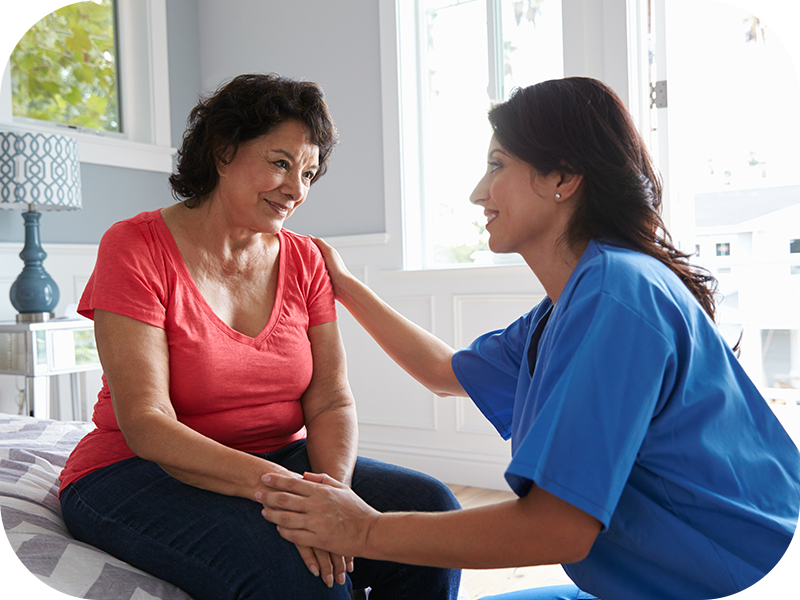 How to Pay for Assisted Living
It's not uncommon for many people who are in need of assisted living care to put off getting this much needed service because they are fearful of the cost. At Affectionate Care, we offer all-inclusive pricing. As a resident's level of care changes, comprehensive assessments will be conducted and shared with the resident and family members. Together we will discuss all the options and solutions available to best meet your needs. There are several ways to pay for assisted living.
Veterans Benefits
You can receive help to pay for assisted living services using Veteran's benefits. This benefit can help with the cost of service-related injuries, disabilities, aid and attendance to any disabled veteran (including spouse). Please visit https://www.va.gov/GERIATRICS/pages/Assisted_Living.asp for more information.
Personal Income and Saving
One of the most common and simplest ways to afford assisted living care is using personal income and savings.
Renting Your Home
Renting out your or your loved ones home will allow you to maintain ownership of the home while creating income that can be used to pay for assisted living.
Selling Your Home
Equity gained from selling your home. Many seniors exercise this option to pay for care.
Home Equity Loan
If the need for assisted living is immediate and the home cannot be sold right away, this may be an option to consider.
Long-Term Care Insurance
If your loved one has invested into long-term care insurance, many policies cover assisted living. If your loved one is covered this can be a tremendous asset.
Pooling Family Support
If your loved one cannot afford assisted living, the support of family members is helpful in reducing out-of-pocket expenses.
Selling your Life Insurance Policy
This involves selling your Life Insurance Policy to someone who will pay the premiums and get the benefits when you die. This may also be known as life settlement. Although some people are hesitant to use this option it is still option to be aware of.
Reverse Mortgage
This options allows you to borrow money from the equity on your home.
Although the process and costs can be daunting, putting off the assisted living services that you need can have serious consequences. Luckily, there are many ways to secure the funds needed to pay for your spot at our senior living community in Richmond, and our tiered-pricing system ensures that you only pay for the care that you need. As your care-needs change, our experts will assess your situation and share the results with you and your family to determine the best course-of-action moving forward.
At Affectionate Care Assisted Living Home, we work with our residents to help them identify and utilize the best funding options available to them. Fill out the below form, or give us a call today to speak with an expert about how you can afford the care that you need.